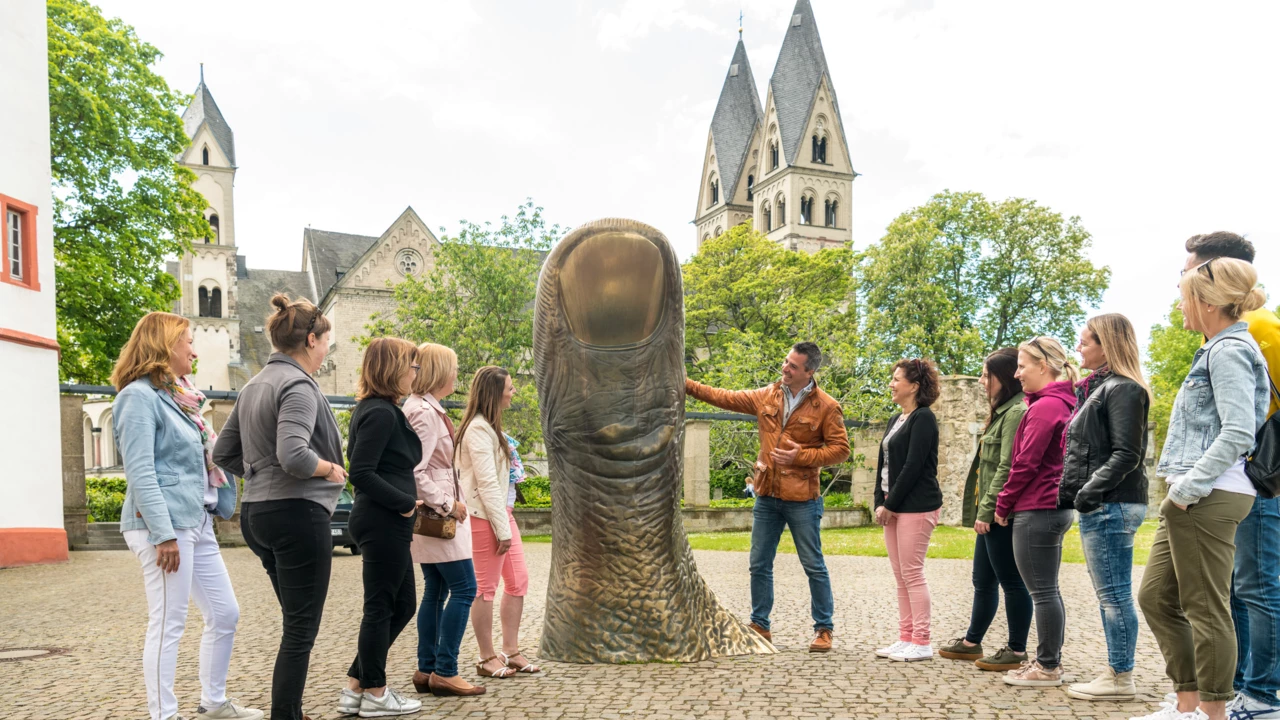 Romantic Old Town
This tour can also be booked as a private group tour
Get to know one of Germany's oldest cities on a tour of the historic old town.
The romantic winding alleys between the St. Castor Basilica and the Church of Our Lady, the Kaiser Wilhelm Monument at Deutsches Eck, the Electoral Palace on the banks of the Rhine, the water-spouting Schängel Fountain and finally also the modern Forum Confluentes with the ROMANTICUM are among the highlights of the two-hour guided tour and are just some of the attractions that illustrate the versatility and history of the city of Koblenz.
On request, this tour can also be booked as a combined tour with the addition of the Romanticum. In this case, after a slightly shortened city tour, your guide will accompany you to the interactive exhibition, where the UNESCO World Heritage Site "Upper Middle Rhine Valley" is presented with all its facets and special features.
Dates & Times (German)
| 01. Jan.–31. Mar.: Saturdays at 10:30 a.m.
| 01. April–31. Oct.: Daily at 10:30 a.m. and 3 p.m.
| 01. Nov.–12. Nov.: Saturdays at 10:30 a.m.
| 19. Nov.–17. Dec.: Christmas Tour on Saturdays at 4 p.m.
Please inquire about tour times in languages other than German. Our Tourist Information can be reached at +49 (0)261-129-1610 or at info@koblenz-touristik.de.
Prices (2023)
| €9.00 per adult

| €4.00 per child up to 12 years
Information
| Max. 30 Persons 

| Duration: 2 hours (1.5-2 km)

| Reservations made through Tourist Information in Forum Confluentes
Meeting Point
Tourist Information in Forum Confluentes
Resources for Booking your City Tour