Bad Ems
Bad Ems looks back on a glorious history. The former imperial spa attracted famous personalities from all over the world - from high nobles to artists and scholars - including Kaiser Wilhelm I, Tsar Alexander II, Dostoyevsky and Richard Wagner. Today, numerous magnificent baroque buildings and masterpieces of spa architecture or classicism can still be admired in Bad Ems. You should not miss the baroque bath castle, the marble hall, the spa theater and the oldest casino in Germany.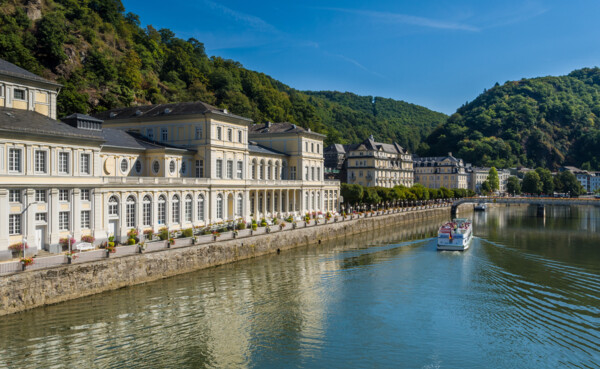 With its 15 healing springs, the spa town of Bad Ems is also known as a healing spring paradise. Since 2021, Bad Ems has even been a UNESCO World Heritage Site as part of the "Great Spa Towns of Europe". On rainy days, the Bad Ems spa also offers a perfect retreat and oasis of relaxation.
In the beautiful Lahn Valley, active people and nature enthusiasts will also get their money's worth. Beautiful views open up from the Malbergskopf and the Bismarckhöhe. Who prefers it somewhat more comfortably, can drive up also with the standseilbahn. By the way: With its 78-percent gradient, the Kurwaldbahn is one of the steepest funicularsseilbahnin the world.
Learn more about Bad Ems!