Loreley
The steep rock and the narrow valley, the Rhine with its whirlpools and shoals means even in modern times now and then still serious danger for the Rhine navigation. No wonder that in the past numerous skippers had accidents here and gave the rock room for myths and legends. The legend of the Loreley is probably the most important and is more closely associated with Rhine Romanticism than any other. It was Brentano who created the figure of the singing maiden on the rock in his ballad "Zu Bacharach am Rheine..." (At Bacharach on the Rhine...) and Heinriche Heine who wrote one of the most famous songs about it. Since then, the legend of the Loreley has been sung about in various languages all over the world.
According to legends, the Loreley is a mermaid who sat on this very rock and combed her long golden hair. With her beautiful song she distracted the skippers so much that they no longer paid attention to the course in the dangerous current and the ships were wrecked on the rocky reefs.
The Loreley is a special attraction especially thanks to its unique view. On the slate rock towering about 132 meters above the Rhine, visitors can enjoy a beautiful panorama of the Rhine bends, the neighboring towns of St. Goarshausen and St. Goar, as well as the idyllically situated castles of Katz and Rheinfels. The cultural and landscape park on the Loreley plateau, which will be redesigned in April 2019, invites you to follow in the footsteps of ancient myths and legends and experience the Loreley natural monument.
Just a few steps away from the lookout point is the Loreley open-air stage, which regularly hosts major events.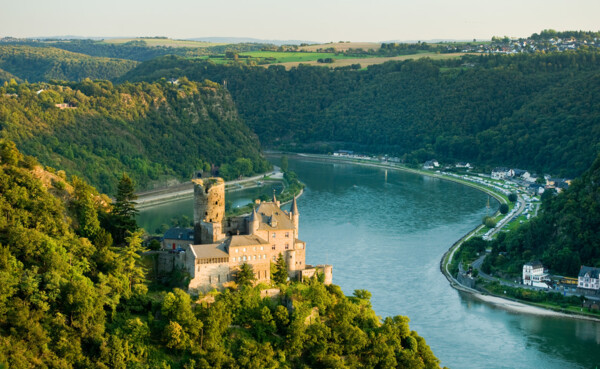 More information about the Loreley!