Thurant castle
One of the oldest castles in the Moselle region can be found in Alken. Partly built on Roman foundation walls, Thurant Castle is visible from afar. Up here you can enjoy a fantastic view of the Moselle valley and its vineyards. During a tour, you can not only experience the double castle, but also learn about the ancient craft of winemaking.
Details on opening hours, entrance fees, etc.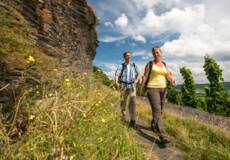 Dream Trail: Bleidenberger Views
Over 12.8 km, this dream trail leads through green forests and flowering meadows, idyllic stream valleys and vine-covered slopes. In between, you can stop at Thurant Castle and the beautiful village of Alken - accompanied, of course, by fantastic panoramic views of the Moselle Valley!