Where father Rhine meets mother Moselle
The 'Deutsches Eck'
The settlement of the Teutonic Order at the confluence of the Rhine and Moselle rivers in 1216 gave this historically significant place its name "Deutsches Eck". Koblenz also owes its name to the confluence of the Rhine and Moselle. Over the course of time, "Castellum apud Confluentes", Latin for "the fort at the confluence", transformed into the present-day name of Koblenz.
The Kaiser Wilhelm Monument
Shortly after the death of Emperor Wilhelm I, the idea arose to erect a monument to the emperor who had brought about the complete unification of Germany after three wars. Three years later, in 1891, Emperor Wilhelm II, the grandson of the deceased, chose the Deutsches Eck in Koblenz as a suitable location. To make room for the memorial, an emergency harbour was filled in, which at that time was located at the mouth of the Moselle. The Deutsches Eck in its present form came into being.

On 31.08.1897, the copper monument to Kaiser Wilhelm I was ceremoniously inaugurated in the presence of Kaiser Wilhelm II.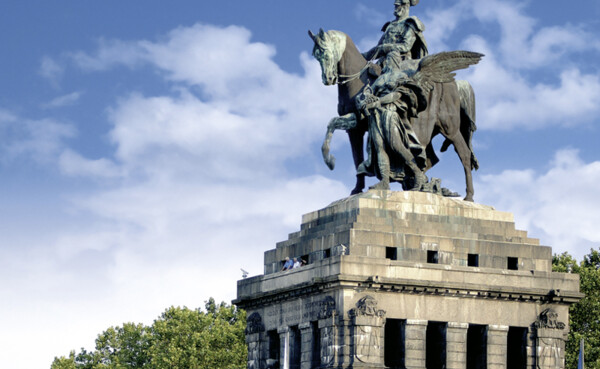 Destroyed by artillery fire in March 1945, Theodor Heuss rededicated the riderless pedestal as a memorial to German unity in 1953. Until 1993, a flagpole with the German federal flag was enthroned here. Finally, in autumn 1993, a reconstruction of the monument was raised onto the plinth. Today, the 37-metre-high monument–14 metres of which are accounted for by the equestrian statue showing Emperor Wilhelm I with a genius–attracts more than 2 million visitors a year and has been part of the UNESCO World Heritage Site "Upper Middle Rhine Valley" since 2002.