Fortress fates
Dates and time: individually on request | Duration: approx. 45 min.
The guide
The Festung Ehrenbreitstein looks back on 5,000 years of history, from the Romans to the Prussians. In the post-war period, it was also a place of refuge for numerous families, which is highlighted in the guided tour Fortress Fates.
Prices
*Up to 30 persons
*Additional admission to the fortress
Information
This guided tour lasts approx. 45 minutes and can be requested conveniently online. Alternatively, you can reserve your guided tour via the guest and booking service.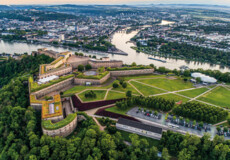 Meeting place
Entrance building Festung Ehrenbreitstein