Heilije, Hexe, Huckeweiwer with Marlis Weiß
Dates and time: individual on request | Duration: approx. 1.5 hours
The guide
Kowelenz, my hometown, which has so many beautiful corner chalices!"
Scene tour "Heilije, Hexe, Huckeweiwer...with Lisbeth through the Altstadt". Accompany Lisbeth, the market woman, through the Koblenz Altstadt and learn interesting, loving and thought-provoking facts about special "Kowelenzer Berjerschleut" and their habits, spiced up in dialect. The immortal "Kowelenz originals" come to life again, the time of the Middle Ages and the French occupation. History and stories told in song and rhyme as well as Kowelenz songs make this tour something special. It ends at an authentic location with the account of a woman who escaped being burned as a witch. For refreshment, there is a "Dudebainche" made according to a historical recipe and a "Dähler Drobbe" (included in the price).
* Dähler Drobbe from the age of 18
Prices
*Up to 30 people
Information
This guided tour lasts about 1.5 hours and can be requested conveniently online. Alternatively, you can reserve your guided tour via the guest and booking service. Please note the minimum age of 18 years.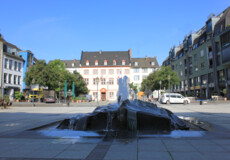 Meeting place
Fountain at Münzplatz