The splendor of the Rhineland and Prussia's glory
Dates and time: individual on request | Duration: approx. 2 hours
The guide
A journey through 19th century Koblenz. Prussian virtues and people such as Carl Baedecker, Josef Görres and Peter Friedhofen shaped the city. Get to know Koblenz from the garrison to the imperial residence in the Electoral Palace.
Prices
*Up to 30 people per guide
Information
This guided tour lasts about 2 hours and can be requested conveniently online. Alternatively, you can reserve your guided tour via the guest and booking service. On Open Monument Day, this tour is offered free of charge.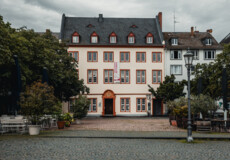 Meeting place
Metternicher Hof, Münzplatz