Wine Walking
Dates and time: individual on request | Duration: approx. 1.5 hours
Resources for Booking your Group Tour
The guide
Wine and Koblenz - these two components simply belong together!
Why? Experience it for yourself: Travel with our tour guides* through the history of wine in a city that lies in the middle of the wine country Rhineland-Palatinate with its six growing regions. Walk along the most spectacular sights and let yourself be inspired by historical anecdotes. And because the history of wine wants to be experienced with all senses, you will taste three regional wine varieties* at special locations during the "Weinspaziert" guided tour. For this purpose, you will be handed glass holders and fancy wine glasses, which you may of course keep as souvenirs. Get a taste of the Weinstadt Koblenz!
*as non-alcoholic alternatives, we offer you a regional grape sparkling wine as well as water.
Prices
*Min. 10 to max. 25 persons
Information
This guided tour lasts about 1.5 hours and can be requested conveniently online. Alternatively, you can reserve your guided tour via the guest and booking service.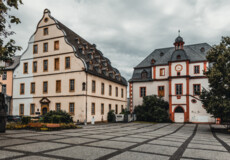 Meeting place
Florinsmarkt before the Florinskirche