Shalom on the Rhine and Moselle
Discover with us the history of medieval Judaism in Koblenz.
The guide
The existence of a Jewish community in Koblenz has been documented since the Middle Ages. Jewish life and work has always influenced the development of our city over the centuries and enriched it in many ways. Our tour is intended to familiarize you with the lives of Jewish people in our city. It will take you to various relevant places and provide insights into the eventful history. Community life, Jewish traditions and the fates of well-known and lesser-known citizens will come to life.
Discover with us the history of medieval Jewry in Koblenz and its subsequent development up to the 21st century. The city tour ends with a visit to the synagogue and the Jewish cemetery.
Dates
| | | | | |
| --- | --- | --- | --- | --- |
| Time | | | | Date (Mondays) |
| 10 am | | | | 15.05., 24.07., 04.09. |
Prices
Information
This guided tour lasts about 2 hours and can be booked conveniently online. Alternatively, you can book your tour at the tourist information office at Forum Confluentes.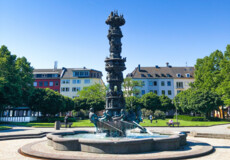 Meeting place
History column at Josef-Görres-Platz