Zurück zur Übersicht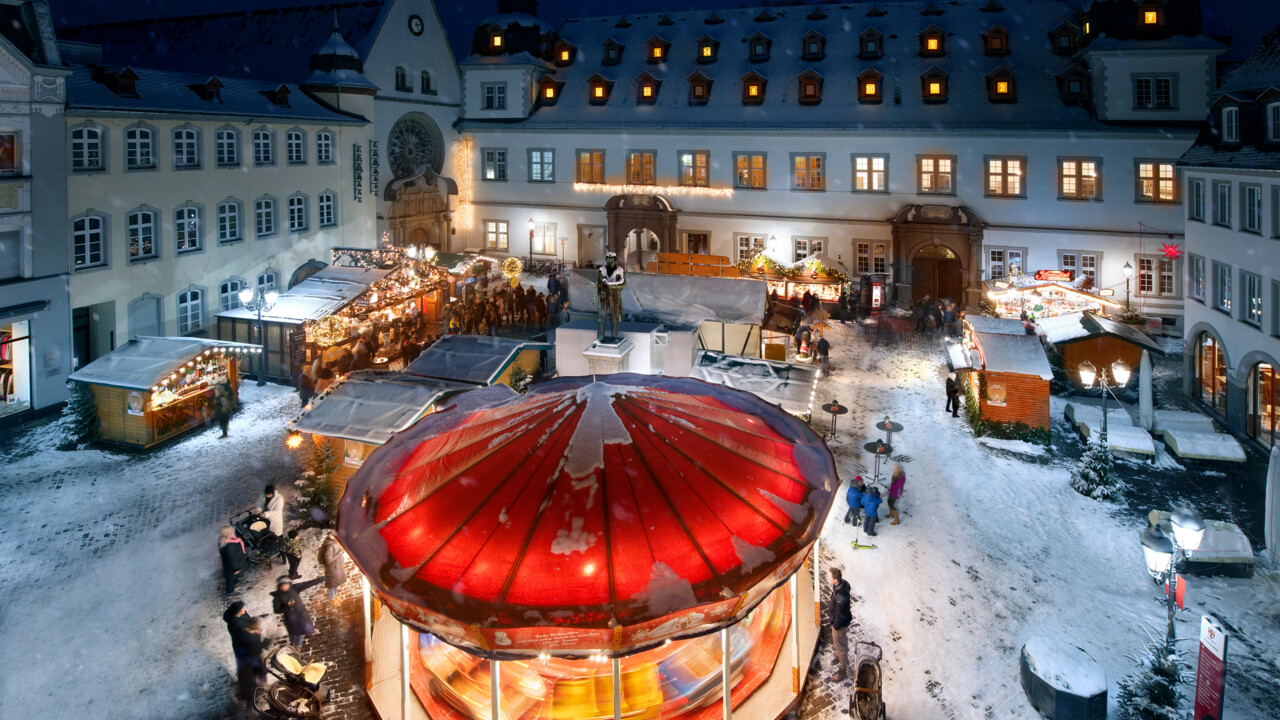 16.11.2023
Gingerbread and twinkling lights: the Koblenz Christmas market starts on November 24
The anticipation of the most wonderful time of the year increases when the scent of roasted almonds fills the air and the alleyways of Altstadt shine in festive splendor. From November 24, Koblenz city centre is once again transformed into a magical Christmas world. A highlight this year is once again the Christmas Garden at Festung Ehrenbreitstein.
The Koblenz Altstadt is festively decorated, the squares in the city center are glamorously adorned and the Christmas houses shine against a historic backdrop. Once again this year, the Koblenz Christmas market promises unforgettable moments and Christmas magic for the whole family.
From 24.11.-07.01., visitors can look forward to a tempting culinary offering in the Christmas huts on the squares in the city center. From fragrant gingerbread and roasted almonds to warming hot drinks, the stalls offer a variety of Christmas delights. In addition to the culinary offerings, there is also a wide range of gift ideas and handmade unique items. The shopping city of Koblenz presents itself with a varied retail offer that invites you to browse and discover. A special highlight this year is once again the illuminated Advent calendar in the dormer windows of the town hall at Jesuitenplatz. The inclusive Christmas market is also being continued: organized by Der Kreis, Club Behinderter und ihrer Freunde e.V., handmade products from workshops for the disabled in the region will be on sale at Görresplatz on the first and second weekends of Advent from 12 noon to 8 pm.
Christmas experiences are provided by guided tours through the festively decorated town and musical highlights such as the sounding Advent calendar on the stage at Görresplatz. Here, choirs from the Koblenz District Choir Association will put visitors in a festive mood from Monday to Friday from 7 p.m. between December 1 and December 22.
The popular Kowelenz Christmas stories: On the first three Advent weekends on Saturdays and Sundays at 5 pm, Koblenz dialect poet Manfred Gniffke performs Christmas songs and stories together with his son Michael on the forecourt of Liebfrauenkirche.
Also with Manfred Gniffke, this year's last guided tour "Mir ginn Krebbcher gugge" on Saturday, 30.12.2023 at 4 pm, starting at Basilika St. Kastor. From there, the nativity scenes in St. Florin and Liebfrauenkirche will be visited. The Koblenz music orchestra, the Pfaffendorf tower brass band, organists, the three kings and other performers will be there. Admission is free.
At Festung Ehrenbreitstein, the third edition of Christmas Gardens (16.11.-07.01.) fascinates visitors with over 30 new works of light art transforming the 2 km illuminated circular route inside the fortress into a magical place. The Seilbahnride across the Rhine offers a harmonious finale with a breathtaking view of Koblenz illuminated for Christmas.
Further information: www.koblenzer-weihnachtsmarkt.de
Koblenz Christmas market:
24.11.2023 to 07.01.2024
Inclusive Christmas market:
First and second weekend of Advent
Friday - Sunday between 12 noon and 8 pm
Görresplatz
Sounding Advent Calendar:
01.12. 2023 to 22.12.2023
Monday - Friday at 19:00
Stage at Görresplatz
Participating choirs:
| | | |
| --- | --- | --- |
| Friday, December 1, 2023 | | Trombone choir of the Protestant community association Koblenz |
| Monday, December 4, 2023 | | HeartChoir Koblenz |
| Tuesday, December 5, 2023 | | Women's choir Quodlibet Koblenz-Rübenach e.V. |
| Wednesday, December 6, 2023 | | Church choir Neuendorf |
| Thursday, December 7, 2023 | | MGV Loreley e.V. Koblenz-Niederberg |
| Friday, December 8, 2023 | | Jazz Choir Koblenz |
| Monday, December 11, 2023 | | Women's choir 1986 Bubenheim e.V. and MGV Mozart 1880 e.V. Eitelborn |
| Tuesday, December 12, 2023 | | Singkreis 70 Koblenz e.V. |
| Wednesday, December 13, 2023 | | Modern-Song-Project of the MGV Cäcilia Lay e.V. 1876 |
| Thursday, December 14, 2023 | | Choral society Thalhausen 1864 e.V. |
| Friday, December 15, 2023 | | Youth chamber choir of the singing school Koblenz |
| Monday, December 18, 2023 | | Choir of the Sparkasse Koblenz |
| Tuesday, December 19, 2023 | | International Biodiversity Choir |
| Wednesday, December 20, 2023 | | Male choir 1854 Rübenach |
| Thursday, December 21, 2023 | | Musical Christmas story |
| Friday, December 22, 2023 | | Sing-along concert |