Events in winter
In winter, it's Christmas anticipation and light art, when the city begins to shine and sparkle with the Christmas market and Christmas Garden at Festung Ehrenbreitstein! A special highlight in winter is of course the carnival with the popular Shrove Monday parade.
Plan your vacation in Koblenz
24.11.2023 - 07.01.2024
Koblenz Christmas Market
Every year during Advent, Koblenz is transformed into an atmospheric pre-Christmas paradise: The scent of freshly roasted almonds, mulled wine and gingerbread wafts through the streets. At the arts and crafts market, numerous stalls with handmade unique items invite you to a cozy gift hunt.
You can stroll through the festively decorated city center from one favorite spot to the next in complete relaxation. A particularly contemplative sight awaits you at Jesuitenplatz. There you will find the city's largest Advent calendar, composed of the colorfully lit dormer windows of the baroque town hall.
Learn more about the Koblenz Christmas Market!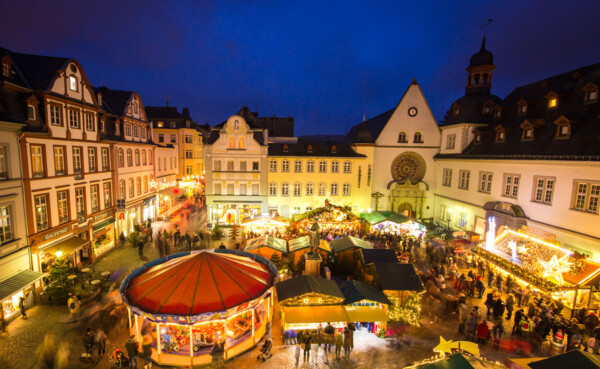 16.11.2023 - 07.01.2024
Christmas Garden
Starting on November 17, the motto at Festung Ehrenbreitstein after dark is once again: pause, marvel at light art at the highest level and enjoy (pre-)Christmas colorful happiness. The Christmas Garden Koblenz promises a magical journey through enchanting fantasy worlds and guarantees a wonderful open-air experience for young and old.
Learn more at Christmas Garden!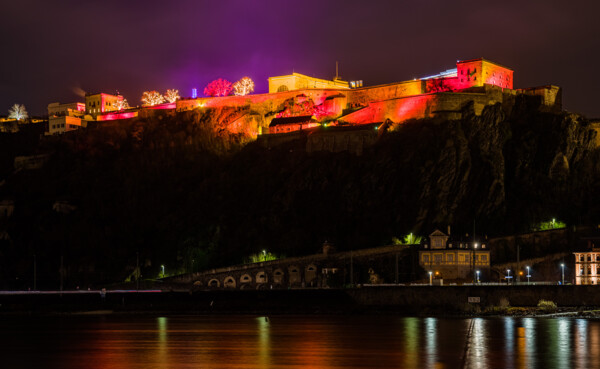 12.02.2024
Carnival in Koblenz with Rose Monday parade
"Kowelenz Olau!" - This battle cry resounds from all corners and alleys on Rose Monday. Koblenz is one of the carnival strongholds in the Rhineland. Every year, more than 150,000 onlookers come to celebrate with the guards, clubs and music groups. The närrische Lindwurm winds its way through the city center, starting at Altstadt in the direction of the train station and back, on a total parade route of 5 kilometers. In 2024, more than 45 floats and over 90 foot groups will once again enrich the procession. Celebrate this Rose Monday procession with more than 4,500 active participants!
Learn more about the Koblenz Carnival!