The summer highlight event
Rhine in flames
Every year in August, the highlight event Rhine in Flames® attracts thousands of people to Koblenz. Towards evening, a colorful convoy of ships sets off up the Rhine to Spay to capture the unique atmosphere of Rhine in Flames on the return journey past several fireworks displays and atmospherically illuminated sites. At the end, the grand finale fireworks display lights up the sky above the Festung Ehrenbreitstein and amazes spectators who travel from all over the world for the impressive experience.

Meanwhile, people are also celebrating exuberantly on land with good music and fine drinks.

Sounds exciting? Then let's go ahead and plan your next stay in Koblenz!
The unique RiF experience
Shipping
Participating in the Rhine in Flames® ship convoy is an unforgettable experience. Whether a simple boat trip, ticket with evening buffet or all-in on the party ship - everything is possible. Depending on the ship and the offer, the ship tickets are available at different advance booking offices, partly directly at the ship operators, at event organizers or just at us.
More info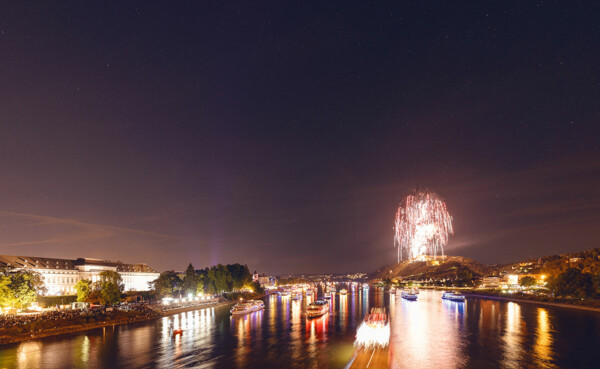 Experience RiF on our ship
Tickets for the MS Asbach (sun deck tickets)
Unfortunately, there are no more tickets available at the moment.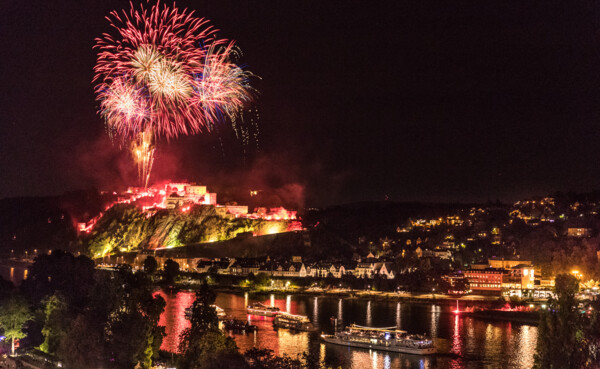 Experience RiF on our ship
Tickets for the MS Asbach (boat trip incl. buffet)
Unfortunately there are no more tickets available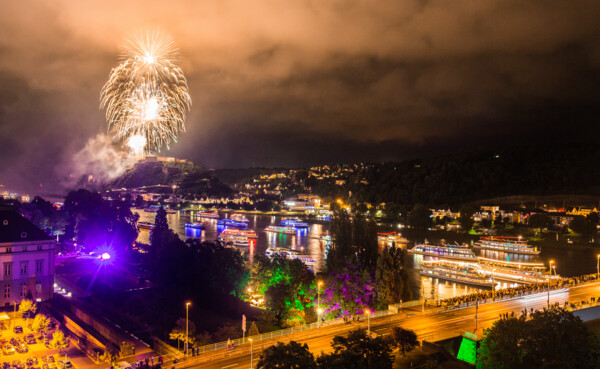 Unique view of the fireworks
Tickets for the business area to Rhine in Flames
The business area on the plateau invites a limited number of visitors. Here you can experience the fireworks from the best view with a large selection of beverages from beer, wine, cocktails and soft drinks. Partly with table service for the drinks, as well as via generous serving points. The food is available at extensive buffet stations including a flying buffet throughout the evening.
Enjoy the unique view of the fireworks from the Festung Ehrenbreitstein!
Buy tickets here!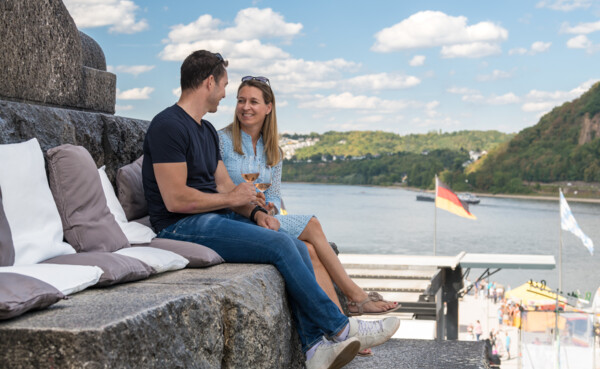 Do not miss!
Koblenz summer festival
Every year at Rhein in Flammen®, a diverse summer music festival is celebrated on the event mile on the banks of the Rhine and Moselle around the Deutsche Eck. More than 200 artists present themselves on several stages and invite the 150,000 visitors over three days to dance, but also to relax.
More info