The Weindorf
From exhibition site to attraction for tourists.
The Weindorf Koblenz was created in 1925 on the occasion of the "Reichsausstellung Deutscher Wein". The exhibition took place as part of the celebrations for the 1,000th anniversary of the Rhineland. Four stylistically different buildings had been erected for the exhibition, which were modeled on typical winegrowers' houses from the German winegrowing regions. Here, the individual wine-growing regions and wine producers presented their wine products during the Imperial Exhibition. Originally built only for the duration of the exhibition, Weindorf soon became so popular that it was permanently preserved as a tourist attraction.
During World War II, the Weindorf was destroyed in an air raid and rebuilt in its current, slightly simplified form in 1951. During this time, a "miniature vineyard" was created behind the Koblenz Weindorf. With just 750 vines on 1,500 square meters, the "Schnorbach Brückstück" is still the smallest registered single vineyard in all of Germany. Today, the winegrowers' village is all about gastronomy. In the wine houses you can dine in style or get to know the Koblenz customs in a very rustic way.
More information about the Weindorf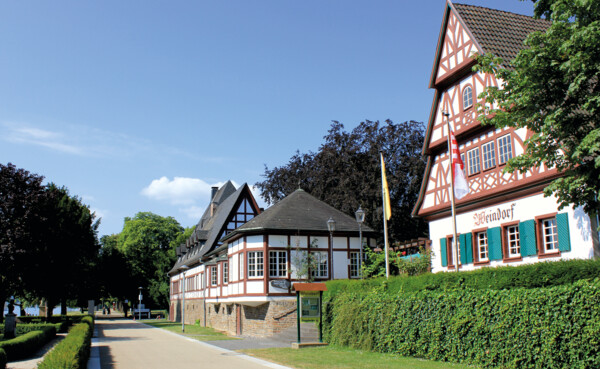 Plan your wine vacation in Koblenz
More about wine culture in Koblenz