Open city tours
Take part in one of our many city tours! You can book tickets online or at our tourist information.
Leadership Topics
Highlights
Highlight Tour
The Romantic Old Town
A visit to Koblenz should not be complete without a romantic guided tour of the old town. Discover one of the oldest cities in Germany on this guided tour through the historic old town.
Learn More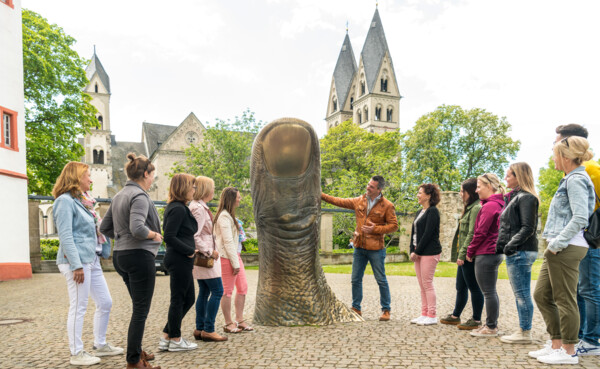 More Tours
We currently offer a much wider range of tours in German. If you can speak or understand German, then it is certainly worth switching over to the German language version of this page to expand your options! If you're traveling with a large group, then we are also able to organize private tours in English that are not currently available to the public.
Questions? Give us a call, send as an email or visit our tourist information centre in the Forum Confluentes!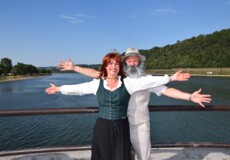 Moselle kisses the Rhine
Open tour with the lovely Madame Mosella and the rough-and-tumble Rhenus.
Wine Tours
This is the right place for connoisseurs, because the Weinstadt Koblenz must not be without one thing: an enjoyable wine tour! Take a walk through the city with a wine connoisseur and taste local wines at selected locations, join an expert guided tour through the sparkling wine museum or take part in a wine tasting at a wine tavern. Because all wine tours have one thing in common: you will deepen your wine knowledge and get a taste for the wines of Koblenz.
DID YOU KNOW? Viticulture is a legacy of the Romans, who once brought the vines with them so that they would not have to do without the delicious drop during their long campaigns. This heritage was gladly taken on in the region, and most wineries today look back on long family traditions. In Koblenz, around half a million vines are currently cultivated in the urban area. The vineyard area covers around 40 hectares, just under 10 of which are located on the Middle Rhine.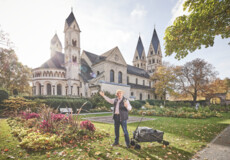 Wine stroll
Travel with our guides through the history of wine in a city that lies in the middle of the famous wine-growing region of Rhineland-Palatinate with its six wine-growing areas.
Stroll sample
With a twinkle in his eye, Michael Hörter links extraordinary
stories and six delicious wines (0.1 l) at very special
locations.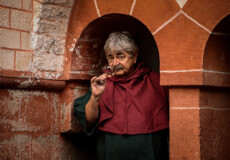 Kalle Grundmann the wine waiter
120-minute wine tour through Koblenz with Kalle Grundmann. Four wine samples will be served.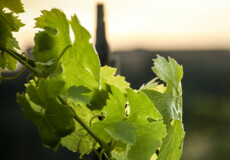 The living vineyard
Together with the nature experience guide, you will explore a wide variety of habitats from vineyards to fallow land,
orchards to a wetland biotope.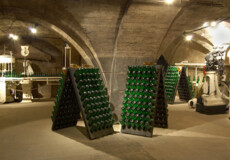 Koblenz Sparkling Wine Museum
Embark on an exciting journey through time into the history of sparkling wine production.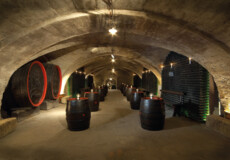 Koblenz wine and sparkling wine stories
On the way to the Koblenz Sparkling Wine Museum you will stroll through picturesque alleys, past the sights of Altstadt and learn interesting stories and entertaining anecdotes about wine.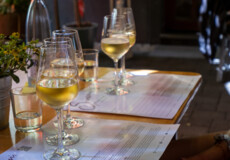 Experience wine - enjoy wine
Accompanied 4 wine tasting with a small cellar tour at the Spurzem Winery. Experience and taste the diversity of their wines and learn everything you ever wanted to know about wine.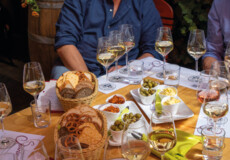 WineTastingTime
Six different WineTimes have been put together for you. Each WineTime consists of three coordinated wines, which you can taste individually at the winery.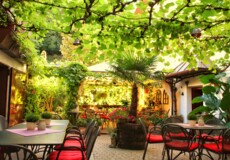 Cellar tour and wine tasting
Enjoy wines in an idyllic location, cozy ambience and unique atmosphere.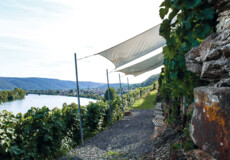 Marienberg tour with wine tasting
On the steep terraces you will enjoy the magnificent view over the city of Koblenz. Meanwhile, discover the character and enjoyment of the Steilterrassen wines during a wine tasting (4 wines) in the vineyard.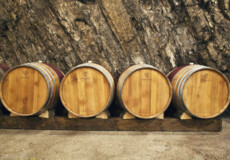 Rock cellar tour with wine tasting
The rock cellar tour leads into the mountain gallery under the top vineyard Koblenz Marienberg. Afterwards, let yourself be seduced and inspired by the magic of the steep slope wines at the wine tasting (5 wines) Koblenz.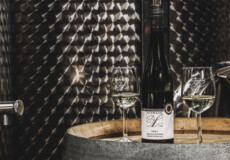 Discovery tour with wine tasting
Discover the Koblenz steep terrace wines. With a cellar tour in the stainless steel and barrel cellar, you will gain insights into the historic Felsenkeller, a mountain tunnel in Koblenz's Marienberg.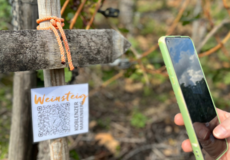 Wine trail
Self-guided walk & wine tasting in Koblenz Marienberg.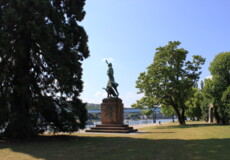 The splendor of the Rhineland and Prussia's glory
A journey through 19th century Koblenz. Get to know Koblenz from the garrison to the imperial residence.
Extraordinary tours