Zurück zur Übersicht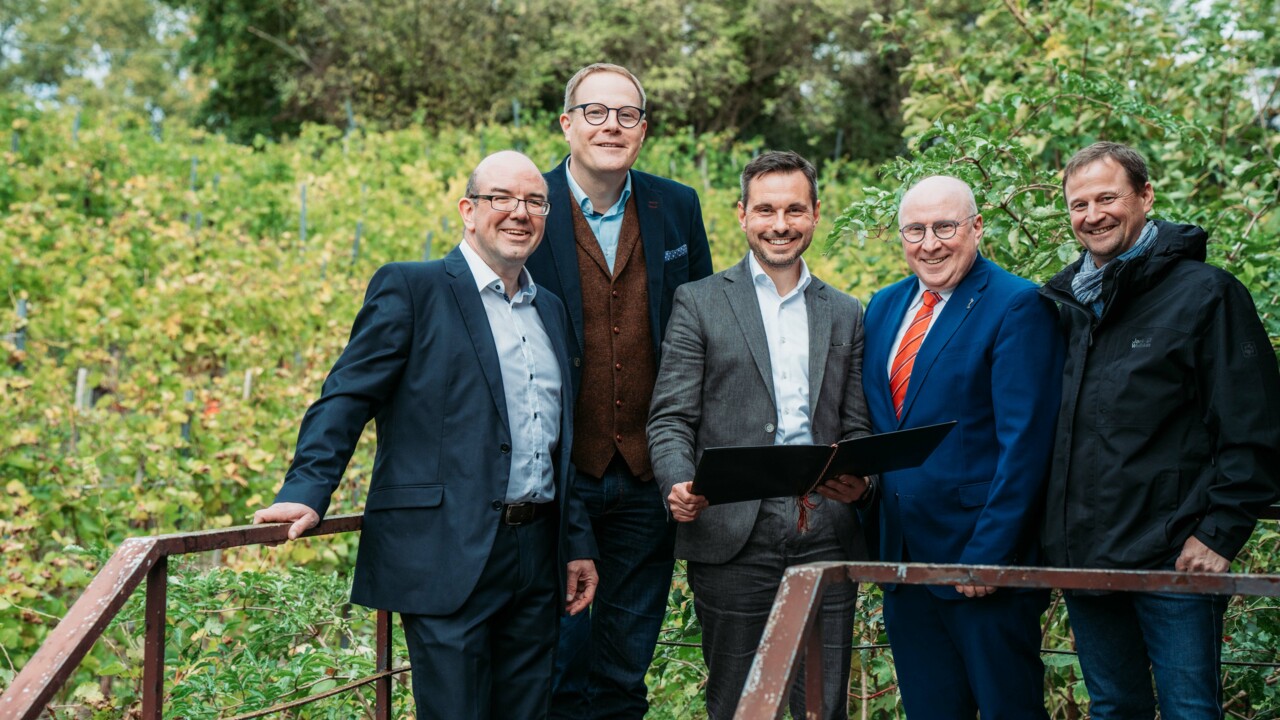 10.11.2023
Koblenz Schnorbach bridge: Germany's smallest vineyard celebrates 50 years
The 50th anniversary of the 'Schnorbach-Brückstück' vineyard designation was celebrated on November 6. Winegrower Karsten Lunnebach produces around 1500 liters of wine per year on Germany's smallest officially registered vineyard.
In the Koblenz Rheinanlagen, directly behind the Weindorf, there is a real wine jewel: in 1973, the Schnorbach Brückstück vineyard, which is only 1500 square meters in size, was officially registered with the Rhineland-Palatinate Ministry of Agriculture, Viticulture and Environmental Protection. It was named after the then mayor of Koblenz, Josef Schnorbach. He had the miniature vineyard planted in the 1950s - originally as a show vineyard where different grape varieties could be seen. Grapes were also sold, but wine production proved to be more economically lucrative and so began the story of Germany's smallest officially registered vineyard
Today, winegrower Karsten Lunnebach cultivates around 750 vines on Koblenz's only inner-city vineyard. The yield is around 1500 liters of wine per year - mainly Pinot Blanc. "That's not much, but the wine comes from Germany's smallest officially registered single vineyard - that's quite something," says Lunnebach, who is the only winegrower to produce wine on both the Rhine and Moselle at the same time, and is pleased with the mini-vineyard. The location directly behind the Weindorf Koblenz was and is also decisive for the success of the vineyard: it was built on the occasion of the German Wine Exhibition in 1925, destroyed during the Second World War and rebuilt in 1951. Today, Weindorf presents stylistically different winegrowers' houses from various winegrowing regions and is a popular destination for tourists.
On the occasion of the 50th anniversary, city councillor Manfred Diehl ceremoniously presented a copy of the certificate of registration as a site to Lord Mayor David Langner. Solely owned by the city of Koblenz, the vineyard now belongs to Koblenz-Touristik. Also present were Claus Hoffmann, Managing Director of Koblenz-Touristik GmbH, winegrower Karsten Lunnebach, who manages the vineyard, and Roberto Möckel, Managing Director of Weindorf Koblenz.