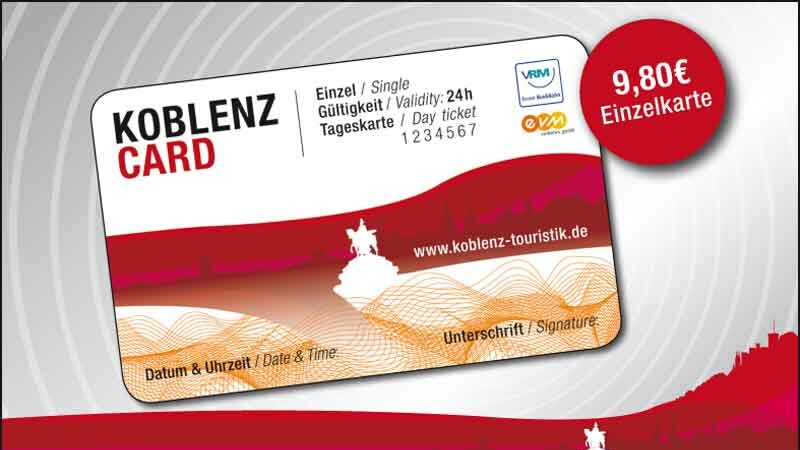 Experience more, pay less
The KoblenzCard
With the KoblenzCard, the city offers its visitors a new, attractive offer. The "advantage card" is valid for 24 hours and offers numerous discounts during this time.

Cardholders can, among other things, ride the bus free of charge in the city, receive a guided tour of Altstadtat half price, visit various museums at reduced prices, and receive discounts on various boat trips as well as on trips with the Koblenzer Seilbahn.

You can obtain the KoblenzCard at our Tourist Information at Forum Confluentes at a price of € 9.80 (for individuals).
All Discounts at a Glance
24 hours free travel with public transit within the entire Koblenz city area...

...with all buses and trains in the VRM, e.g. KOVEB, Rhein-Mosel-Bus, Schaengel Ferry, funicular.
Koblenz city area: zones 101-107 as well as overlap zones 191, 192, 193, 194, 195, 197, 198 and 199
 

50% off regular admission prices as well as on admission prices of special exhibitions (not on combination tickets) in the Koblenz museums:
50% discount on a guided tour of Koblenz's Old Town

Meeting point: Tourist Information in Forum Confluentes, Zentralplatz; Duration: approx. 2 hours; registration required

20% discount on admission to Ehrenbreitstein Fortress and Stolzenfels Castle
20% discount on round trip ticket with the Cable Car (adult ticket)
20% discount on a combination ticket (adult ticket) with admission to Ehrenbreitstein Fortress & Cable Car (round trip)
Discounts on boat tours—20% discount on the regular fare*

Cologne-Düsseldorf Deutsche Rheinschiffahrt GmbH
Marksburg ship Vomfell
Merkelbach passenger ship
* See provider for details
20% discount on tickets to the Koblenz Theatre...

...for performances on days within the validity period of the KoblenzCard (performance starts within the 24 hours validity period)