Am Plan
From tournament and market place to popular meeting place
The square "Am Plan" was formerly used as a market, tournament, and event square.
Originally in the baroque outfit, the square was modernized by Elector Clemens Wenzeslaus of Saxony, who also had the Koblenz Castle built. The square got its name "Am Plan" because it was the first square in Koblenz to be paved flat (eben).
The south side of the square was largely destroyed during the Second World War, so that no historical buildings are preserved here.
The fountain am Plan
The fountain in the center of the square supplied the citizens of Koblenz with drinking water from 1806 from the Metternich water pipeline, which was built for the Kurfürstliche Schloss.
In the northern part of the square, part of the Baroque building stock from the 18th century is preserved. The town commandant's office with the open staircase was the official residence of the Electorate's fortress commander. The building with the arches and the Stadtkommandantur were used as a fire station from 1911 to 1973.

The soprano Henriette Sontag was born in 1806 in Koblenz on the "Plan" and performed in children's roles at the age of six, later worldwide. Her musical skills earned her the title of Royal Court and Chamber Singer. A marble plaque on her birthplace commemorates the world-famous daughter of the city of Koblenz.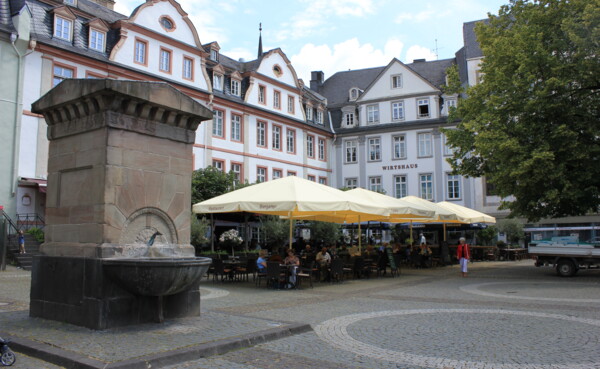 Sights near the square Am Plan
Plan your vacation in Koblenz
Experience Koblenz
Discover the city on the Rhine and Moselle according to your personal taste. Take a look at the various experience pages and plan your next vacation according to your wishes!
View the experiences