Vier Türme
A look up is worthwhile! Where the streets Am Plan, Löhrstraße, Marktstraße and Altengraben meet in the middle of Altstadt, four magnificent houses decorate the intersection. The houses with their ornate oriel towers were first built in 1608 and 80 years later were all destroyed in the Palatinate War of Succession. Restored between 1689 and 1692, three of the four buildings finally fell victim to the Second World War in 1944 and were rebuilt and partly extended until 1960.
The Vier Türme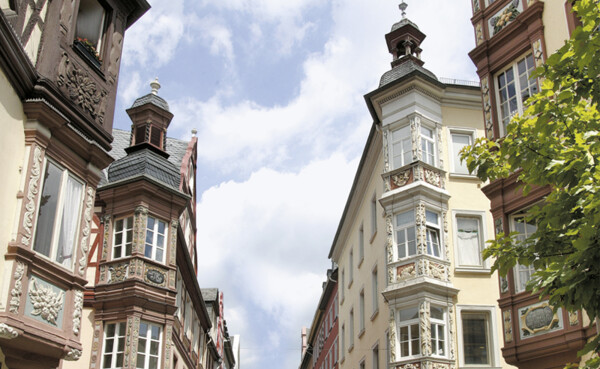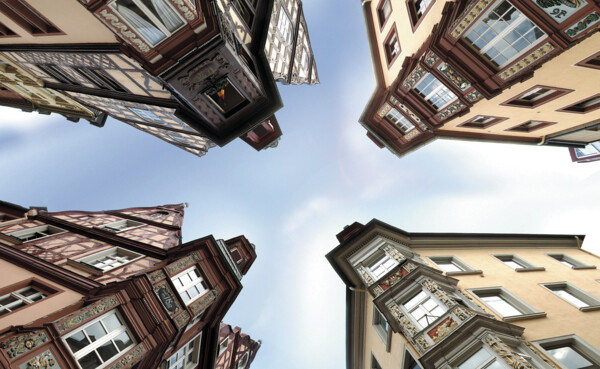 One of the houses bears the name "Zum grünen Baum". A passageway was built into the corner of the house in 1950. It provided an alternative for pedestrians when the streetcar, which existed from 1899 to 1967, turned the corner here.
The house "Zum heiligen Petrus" housed a pharmacy after a long tradition from 1730 until the 2000s.
The "Hauptwache" housed the Koblenz Main Guard until 1848, which is also indicated by a memorial plaque. On the building, guns, flags, muskets and horns recall the Electorate soldiers who performed police duties from here.
The fourth house is not named, remained intact during World War II and was finally restored in 1778.
The Vier Türme have been part of the UNESCO World Heritage Upper Middle Rhine Valley since 2002 and are a protected cultural asset under the Hague Convention and marked with the blue and white protection sign. They are under monument protection.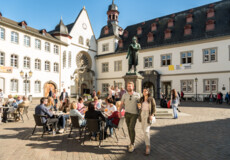 Guided tour: The romantic Altstadt
When visiting Koblenz, the romantic Altstadtguided tour should not be missed. Discover one of the oldest cities in Germany on this guided tour through the historic Altstadt.
Places of interest near the Vier Türme
Plan your vacation in Koblenz
Experience Koblenz
Discover the city on the Rhine and Moselle according to your personal taste. Take a look at the various experience pages and plan your next vacation according to your wishes!
View the experiences