The Görresplatz
The area of today's Görresplatz in the old town of Koblenz was already settled by the Romans, as archaeological finds prove. In the Middle Ages, it belonged to the Kastorstift, later to the Jesuit Order. In the 19th century, it was gradually built on and became municipal property. The publishing house of Carl Baedeker, who became famous for his travel guides, was located on Görresplatz from 1827 to 1872.
Over the centuries, Görresplatz has not only changed its face, but also its name. Sometimes it was called "Großer Platz", sometimes "Paradeplatz", the French called it "Place verte". In the Wilhelminian period it was finally called "Goebenplatz". Görresplatz received its current name in 1946, in memory of the Koblenz publicist and historian Joseph Görres.
The history column
The history column in the middle of the square is worth seeing. The fountain with its approx. 10 meter high column tells the story of the city of Koblenz in ten three-dimensional scenes arranged one above the other. The history column is a gift from the state of Rhineland-Palatinate for the 2000th anniversary of the city of Koblenz in 1992.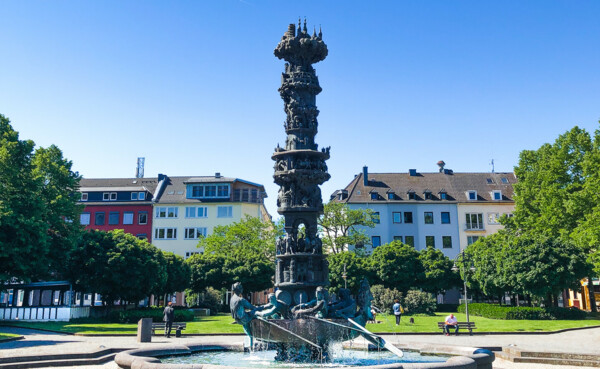 Sights near the Görresplatz
Plan your vacation in Koblenz